Journaling is good for your mental health.
Google it
. See?
I need so much mental improvement that I am required by law to use four and a half journals to help me keep track of my brain. I also have a bunch of fountain pens which help make it more fun.
I manage to write in at least one of the four and a half journals I maintain every day, but the daily writing (in each) is often a difficult thing to keep up. So I like to think of journaling as "the medicine" and the fountain pens as the "spoonful of sugar" to help the medicine go down.
It's a pretty tough tome. I punched a little hole in the back of mine and ran some elastic string through it to hold it together and keep the pen from falling out, etc. I actually write in this one several times throughout each day. There's a post done 1st thing every morning and there are also entries made throughout the day (randomly and irregularly), lately and mainly, to record, track and analyze 'what I do,' and 'what happens,' at work each day. And then, before retiring at night, I 'evaluate' the day a la 'Ben Franklin's system,' one which he made up when he was somewhere in his 20's, I think?
Here's an explanation of Franklin's 13 virtues system
.
You could also use the BF13V as a planner, too, I guess - remind yourself to do stuff in the future and all that. It's a rather innovative little journal at least *based* on a version of his but centered around observing his 13 virtues concept. I try to not use it too much as a planner because then the planned things or scheduled stuff on certain dates and other reminder-future-kind of entries would take up too much space and detract from the effectiveness of the space I currently use to record all the notes about daily events and non-events, etc., ... we'll see.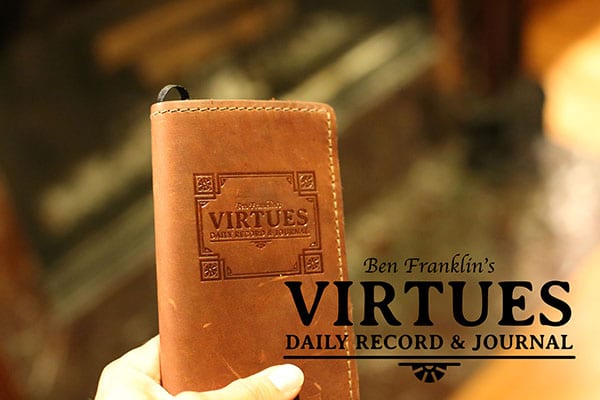 The Benjamin Franklin 13-Virtues Journal is half journal of the day's events, half planner of 'What Good Shall I Do This Day?' and 'What Good Did I Do This Day?" and another half with a specific purpose to keep track of how you think you did each day with regard to keeping a tight rein on those 13 virtues thought by Dr. Franklin to be important in being a good person.
RECOMMENDATION: The lines and grid on the chart are better marked with a fine nib. An 'M' or something too wet is going to mess up your book.
I also make daily entries in the 2nd most used of the four journals, mentioned in an earlier post (last week?). It's called a "
Leuchtturm1917 Some Lines a Day 5-Year Memory Notebook
."
Because of this 365-day design, 1 Jan to 31 Dec layout, many people who *really* need to be organized (or feel like they are, anyway) will purchase one of these journals and then decide not to start using it until January 1st.
Many people don't notice that the book comes with TWO ribbons/bookmarks for this reason. One of the ribbons is to mark the date you started the journal and other is to mark where you are/where left off with your last entry.
But no.
"I'm starting mine on January first!"
"Why do they have TWO bookmark ribbons?"
"Why don't they have just *one* like everybody else?"
"This is weird!"
I also write in a 3rd journal every day, but I'm thinking that one might not count as a journal-journal. It's the one I use at work.
My "work journal" (marked in the top photo on this page) is a nice rustic-looking, leather-bound coupling of 2 inexpensive lined notebooks; they're glued in and will need to be rrrrrrripped out when I'm done. The 1st notebook is marked "Work Stuff" and 2nd one marked "Personal Stuff." And that's how I think of it - "My notebook for work" more than "a journal." I've been using it since around the June timeframe, when it was thoughtfully willed to me by
Kathy Donovan
when she retired after a bajillion years in the U.S. Navy.
Then there's the "Good Journal." Also called the "Cracker Barrel Journal." I actually have 4 of them and am about halfway thru the 1st of that group. If you find one at a "Cracker Barrel Country Store," let me know, will ya?
Oh ... almost forgot. The .5th (the "halfth?") is a little passport-sized, leather-bound 'field notes' journal (sometimes called a '
Fauxdori
' rather than a '
Midori
' ... Google it) which comfortably fits three little notebooks; it's either in my jacket, on my desk or in the car with me ... it's for things like phone numbers, names, things to remember to Google, etc., etc.
SO!
If I have 4.5 freakin' journals to write notes about stuff, to plan and to keep track of stuff --
how come it is that I can't remember what day it is
?